Swedish Apple Cake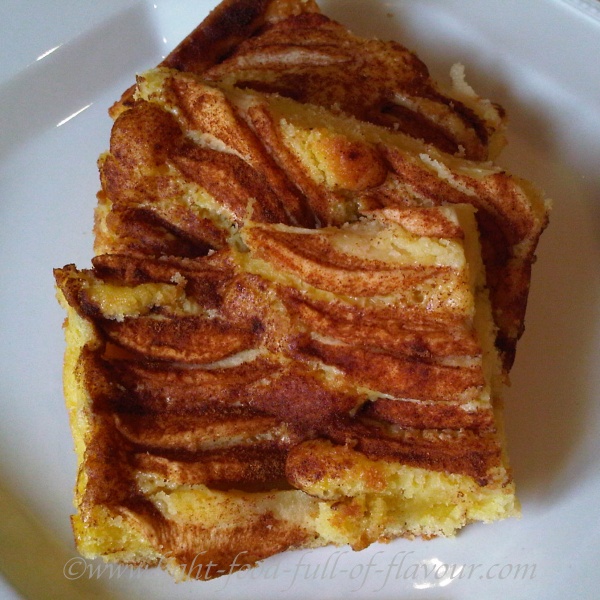 Not only does this Swedish apple cake bring back wonderful childhood memories - it is also one of my absolute favourite cakes.

My lovely mother no longer remembers having ever baked this cake. I bake it for her now and she tells me how much she loves it.

It's her recipe, with a few changes from me.

In British apple cake recipes they always seem to use cooking apples. I don't. I use apples such as Gala or Pink Lady or any other juicy eating apple that I have to hand. I add the juice of a lemon to a big bowl of cold water and add the apple slices to the water while preparing the rest of the cake.

When it comes to vanilla, I will only use vanilla pods or a good vanilla extract – not some fabricated vanilla essence. It is a bit expensive but you don't need to use much to get a lovely vanilla flavour.

I am using xylitol in place of sugar but you can swap that for caster/superfine sugar. Xylitol looks and tastes like sugar but has fewer calories and doesn't raise blood sugar levels.

It is a vegetable sugar which is similar to fructose in fruit and has a very low GI. I'm not sure if it's sold in super-markets. I bought it in a health food shop.


Swedish apple cake:

150g, 5½oz, 11½ tablespoons (0.7 cup), unsalted butter, melted

3 eggs

200g, 7oz, 1 cup, xylitol - or use caster (superfine) sugar

1 teaspoon vanilla extract

175g, 6oz, 1¼ cup, plain flour

1 teaspoon baking powder

7-8 apples, depending on size, peeled, cored, halved, sliced to a medium thickness and placed in a bowl with lemon water (see above)

Cinnamon

1. Heat the oven to 180C/350F/gas mark 4. Line a baking tray (approximately L14" x W11" x H1.5" – L36cm x W26cm x H4cm) with baking parchment).

2. Place the sugar, eggs and vanilla extract in a bowl. Use an electric whisk, or whisk by hand, and beat until you've got quite a thick and pale mixture.

3. Add the melted butter to the sugar and eggs and mix it in with the help of a large metal spoon. Mix the flour with the baking powder and sift it into the bowl. Gently fold in the flour until just combined.

4. Spoon the cake mixture into the prepared baking tray. Transfer the apple slices to a colander and shake off any access water. Here comes the tedious part – you have to stick the apple slices into the cake mixture, one by one and very close together (see first photo below).

5. Once that is done, dust the cake with a fair amount of cinnamon (second photo below) and bake in the preheated oven for around 30 minutes but check a bit before. As the cake is so thin, you really need to keep an eye on it so that it doesn't over-bake.

Once it is ready, cut the Swedish apple cake into pieces and serve warm or cold - either as it is or with vanilla sauce or a bit of whipped cream.