Tarragon Chicken With A Vermouth Sauce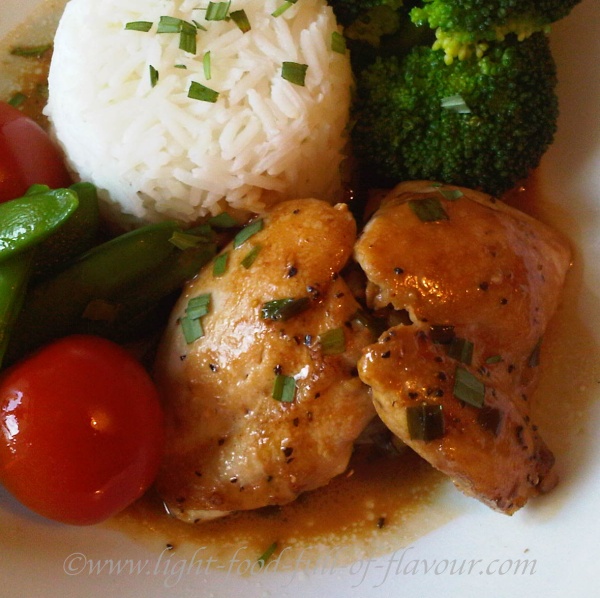 Chicken and tarragon – a match made in heaven! This tarragon chicken dish with a Vermouth sauce is a real crowd-pleaser.

I tend to mostly use chicken thighs when making this dish as the thigh meat is so much more tender and moist. But at times I've used the breast as well and if you do, you have just got to be more careful so the meat doesn't end up being dry.

To me, this is festive food and ultimately a bit more calorific than most things I cook. I like to serve it with rice and vegetables like oven-roasted tomatoes, sugar snaps, green beans and broccoli.

And the way I exercise calorie control with food like this is to load up on the vegetables and eat them before I even allow my cutlery near this gorgeous tarragon chicken dish.


For 4 people:

8 boneless and skinless chicken thighs, trimmed and each thigh cut in half, or 4 chicken breasts, each chicken breast cut into 5 even-sized pieces

1 tablespoon plain flour + some salt and pepper

1 ½ tablespoon olive oil + 1 teaspoon butter

A small handful of fresh tarragon leaves

100ml, 3½ floz, ½ cup, Vermouth

250ml, 9floz, a little bit more than a cup, chicken stock

100ml, 3½floz, ½ cup, crème fraiche

1 tablespoon soy sauce

Salt and pepper

1. Heat the oven to 200C/400F/gas mark 6. Mix the flour with some salt and pepper on a plate. Roll the chicken pieces in the flour and shake off any excess flour.

2. Add the olive oil and butter to a large non-stick frying pan over a medium heat. When the butter and oil start to sizzle and brown a little, add half the tarragon leaves and the chicken pieces to the pan and brown the chicken all over. If you don't have a large enough frying pan, you might have to do this in two batches. Remove the chicken from the frying pan and place in an oven-proof dish.

3. Lower the heat a little and add the Vermouth and the rest of the tarragon leaves to the frying pan. Bring to a simmer while stirring and scraping up the sediments from the bottom of the frying pan. Let it simmer for 2-3 minutes. Add the stock, crème fraiche and soy sauce and season with salt and pepper. Stir, bring the sauce back to a simmer and let it simmer for 5 minutes.

4. Check the seasoning of the sauce before pouring it over the chicken and place the dish in the oven. Cook for 15 minutes until the chicken is properly cooked through.


If you are using chicken breast cut into chunks for this tarragon chicken dish, check after 10 minutes in the oven to see if the pieces are cooked through.