Tasty Healthy Brussel Sprouts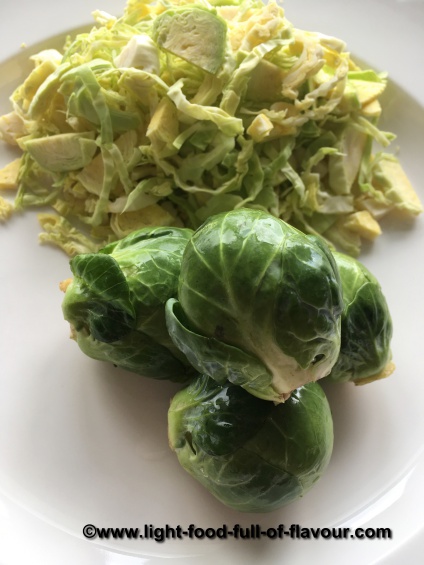 Tis the season to eat tasty healthy Brussel sprouts. I'm not talking about Christmas, just the fact that this is a vegetable that is harvested during autumn and winter in Northern latitudes.
Brussel sprouts are super-healthy. They are part of the family of cruciferous vegetables – which also include broccoli, cabbage, kale, cauliflower and cress – which all contain anti-cancer and liver-friendly nutrients.
These sprouts have quite a peppery taste and like all cruciferous vegetables, they are best eaten either raw or just lightly cooked.
Brussel sprouts are also a non-starchy vegetable with a low GL - one of the vegetables that you can eat a lot of without it affecting your weight. (See Low GL Carbohydrates)
If you are shuddering at the thought of boiled Brussel sprouts accompanying a turkey dinner, try eating them the way I do – finely shredded and added raw to a salad, or at the last minute to a soup or curry.
I make a lot of soups, curries and casseroles at this time of the year and I love both the added crunch and peppery taste that you get when you top these dishes with raw, finely sliced Brussel sprouts.
Brussel Sprout, Ricotta And Feta Cheese Bake

Here's another idea for the use of these tasty healthy Brussel sprouts – a Brussel sprout, ricotta and feta cheese bake.

1 tablespoon olive oil
8 Brussel sprouts – outer leaves removed and finely sliced
4 spring onions – finely sliced
1 garlic clove – crushed
2 large handfuls of spinach leaves
4 large eggs
250g, 9oz, ricotta
100g, 3½oz Feta cheese - crumbled
12 small tomatoes (like cherry or plum tomatoes) - halved
1. Pre-heat the oven to 220C/Fan 200C/gas 7. Add 1 tablespoon olive oil to a frying pan over a medium-hot heat. Once the oil is hot, add the

 crushed garlic to the pan and stir-fry for a minute, then the finely sliced sprouts and spring onions and fry for a further 30 seconds.  Add the spinach to the pan and stir-fry for a further minute, until the spinach has wilted somewhat. Take the pan off the heat and let the vegetables cool down.

2. Beat the eggs and ricotta in a bowl, stir in the crumbled feta cheese and season with salt and pepper. Add the vegetable mix to the bowl and mix well.

3. Lightly butter a medium-sized oven-proof dish, and pour in the egg and vegetable mix. Top the egg and vegetable mixture with the tomato halves. Place the dish in the oven and bake for 15 – 18 minutes – until just set and golden.
Home Page > Healthy Weight-Loss Diary > Tasty Healthy Brussel Sprouts