Vegetarian Curry with Chickpeas, Lentils and Sweet Potato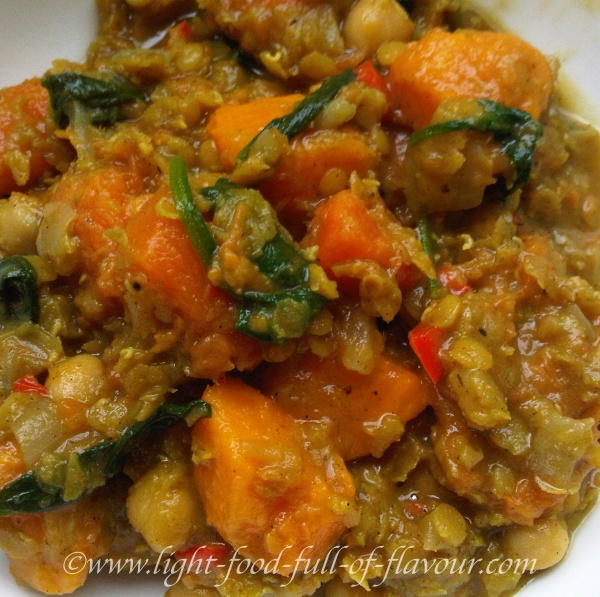 A lot of people ask for vegetarian chilli recipes and sweet potato recipes – this recipe fits the bill for both. It's also a vegetarian curry recipe that will satisfy even a carnivore - it is SO delicious and on top of it, really filling and low in fat.

I once travelled around in India for three months. I arrived as a former vegetarian who'd gone back to being a meat-eater and quickly went back to being a vegetarian once I saw how they dealt with raw meat and fish – out in the open, in the heat and with quadrillion flies buzzing around.

I can't speak for the methods of the higher-end restaurants. I went to the local street vendors and the food-shacks along the roads which all served wonderful vegetarian food. Funnily enough, the only time I got sick was when I went to a restaurant up in the Himalayas which catered for westerners serving Western-style food.

I serve this curry either with quinoa, which is gluten-free and rich in protein, vitamins and minerals - including calcium.

Or I serve it with oh so tasty cauliflower rice! 
For 4-6 people:

1 large red onion, peeled, halved and finely sliced

2 tablespoons coconut oil (healthiest and tastiest), or use groundnut or vegetable oil

1 teaspoon each of: ground coriander, fennel seeds, ground cumin, turmeric, garam masala, black pepper and ground cinnamon

1 tablespoon finely grated fresh root ginger

2 cloves of garlic, finely chopped

2-3 red chillies (depending on how hot you like it), deseeded and finely chopped

Salt and pepper

150g, 5½oz, ¾ cups, red lentils

1 small butternut squash, peeled de-seeded and chopped into bite-size pieces

2 large sweet potatoes, peeled and cut into chunks

10-15 small ripe tomatoes, left whole

800ml, 1½ pints, 3½ cups, water

400g tin, 14oz, 2 cups, cooked chickpeas, drained and rinsed

100g, 3½oz, 3½ cups, fresh baby spinach

Juice of a lemon

A handful of fresh coriander, chopped

200g, 7oz, 1 cup, quinoa

500ml, 18floz, 2¼ cups, hot vegetable stock

1. Cook the onion in the oil in a large saucepan over a medium heat until softened. Add the spices, fresh ginger, garlic and chilli, season with salt and pepper, stir well and cook for a few minutes.

2. Add lentils, butternut squash, sweet potato, tomatoes and the water. Stir and bring to the boil then simmer until lentils are thick and mushy – around 30 minutes.

3. Halfway through the cooking time of the curry, get the vegetable stock boiling in a large pan. Add the quinoa, return the stock to a boil, stir well and then lower the heat to a simmer. Cook for approximately 15 minutes, drain in a colander before tipping the quinoa back into the pan. Allow to stand for a few minutes before fluffing with a fork.

4. Add the chickpeas and spinach to the curry. Stir well until the spinach has wilted and the mixture is properly hot. Add the lemon juice and coriander. Serve the vegetarian curry with the quinoa.