Carrot And Watercress Soup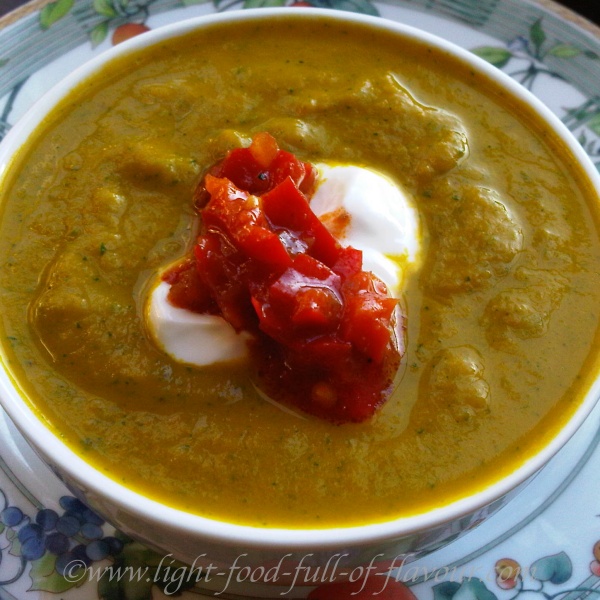 I am not using many ingredients in this super-tasty carrot and watercress soup but this is still a fiery soup.

Both the ginger and watercress (you can use rocket/arugula as well) that I add to this soup adds plenty of heat and both are super-nutritious.

Ginger also has many powerful medicinal properties - it aids digestion, can reduce pain and fever and is an anti-inflammatory. It can give pain relief and increased movement in people with osteoarthritis and rheumatoid arthritis.

To save the nutrients in the watercress from being lost through cooking, I don't add it until I'm about to blend the soup.

It is also low in calories and relatively quick and easy to make – a real winner! I serve it with a dollop of yogurt and my red pepper salsa (bell pepper) salsa. You can use a tomato chilli jam instead of the salsa.

To make it into an even more substantial meal, you can top the soup with cooked chickpeas that are quickly heated up in some olive oil seasoned with a bit of salt and pepper and a generous sprinkling of ground cumin.

Or – if you are a meat eater - add stir-fried or cooked chicken to the soup.

 

For 4 people:

2 tablespoons coconut oil (healthiest), or olive oil

2 garlic cloves, finely chopped

1 teaspoon ground ginger

800g, 1lb12oz carrots, peeled and diced

600ml, 20floz, 2.7 cups water

Salt and pepper

75g, 2¾oz watercress (or use rocket/arugula)


To serve:

Natural Greek-style yogurt

Red pepper (bell pepper) salsa (or use a tomato chilli jam) - optional

1.    Place the oil in a large pot over a low heat. Add the chopped garlic and ground ginger to the pot and stir and cook for 1 minute – making sure the mixture doesn't burn.

2.    Add the diced carrots and continue to cook for a further 5 minutes. Add the water and season with salt and pepper. Bring to a simmer, cover the pot with a lid and simmer for 20 minutes.

3.    Remove the soup from the heat and let it cool down a bit before adding the watercress (or rocket/arugula). You can either blend the soup until smooth with a stick blender in the pan, or you can use an ordinary blender, and then return the soup to the pan.

4.    Check the seasoning and gently re-heat the carrot and watercress soup (without letting it boil) before serving.

I like the consistency of my soups to be quite thick but if you find that it is too thick, simply add some water.