Chickpea And Tomato Gazpacho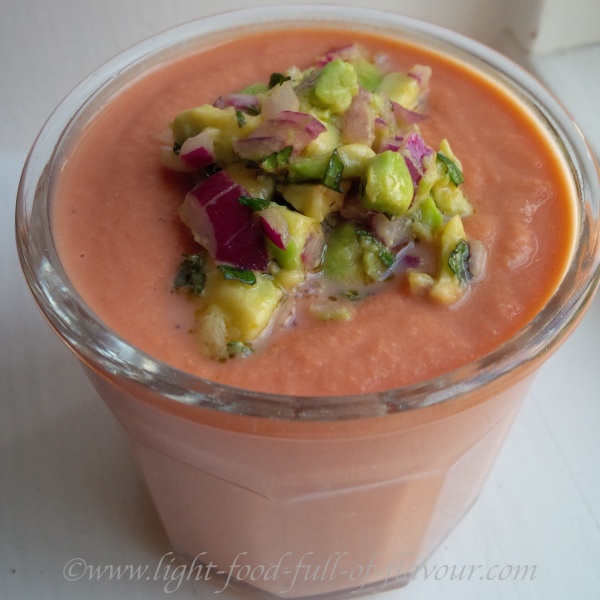 If you are looking for a recipe for a chilled soup, try this super-delicious chilled chickpea and tomato gazpacho served with an avocado salsa. It is easy and relatively quick to make – you just need to leave it to "mature" for a while once you've made it.

I have cooked a lot of buffet-style lunches in my job as a cook and this cold chickpea and tomato gazpacho soup is always popular whenever I serve it.

Apart from being mega-tasty, it is also a healthy soup!
Chickpeas are high in saponins which help lower cholesterol. They are also rich in something called fructo-oligosaccharides which feed the immune system-boosting probiotic bacteria in the gut.

Avocados are rich in Vitamin E and heart-healthy monounsaturated fat.

Red chillies contain high levels of beta-carotene, a powerful antioxidant, and also contain vitamin A, E and C, dietary fibre, potassium and iron.

And on and on the list of the health benefits goes…


For the chickpea and tomato gazpacho:

400g (14oz) tin/can of cooked chickpeas – I buy an organic variety - rinsed

400g (14oz) tin/can of chopped tomatoes

125ml (4floz, just over ½ cup) natural Greek-style yogurt

2 garlic cloves, crushed

1 heaped teaspoon ground cumin

1 heaped teaspoon finely grated ginger

1 red chilli, deseeded and finely chopped

1 tablespoon lemon juice

2 tablespoons olive oil

½ teaspoon salt and some black pepper


For the avocado salsa:

1 ripe avocado

½ medium red onion, finely chopped

1 tablespoon finely chopped fresh mint

1 tablespoon lemon juice

1 tablespoon olive oil

A pinch of salt and black pepper


Extra yogurt for serving (optional)

1.    Place all the ingredients for the soup in a food processor or blender and pulse to a smooth purée. Transfer to a pitcher and gradually add some cold water to adjust the soup's thickness to a consistency you are happy with – I like this soup to be quite thick.

2.    Check the seasoning to see if you want to add any more salt and/or pepper. Cover and refrigerate for at least 30 minutes to allow flavours to blend.

3.    Halve, de-stone, peel and dice the avocado - mix with all the other ingredients for the salsa.

Serve the soup in cups, or glasses - with a dollop of yoghurt (if you are using it) and a dollop of salsa on top.
PS! I also have a recipe for a traditional gazpacho soup that I was give by a kind Spanish man - Traditional Spanish Gazpacho.