Double Chocolate Cakes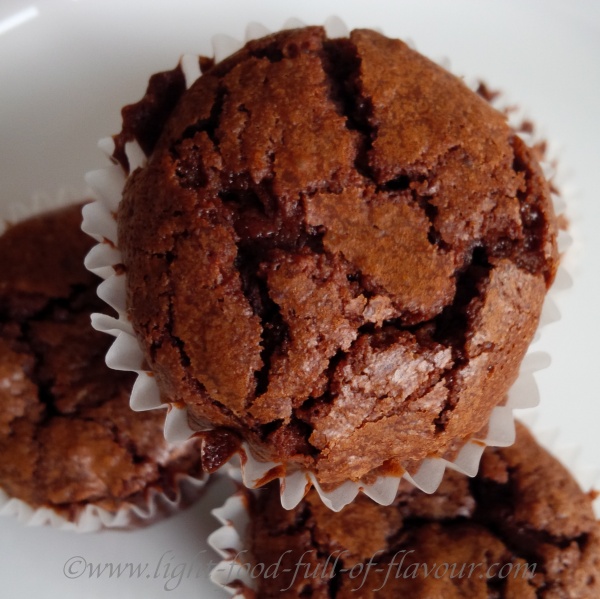 A chocolate lover's dream - double chocolate cakes!
I used to bake quite regularly some years ago – I even baked and sold cakes at a market - and I was constantly trying to make the ultimate chocolate cake.
These double chocolate cakes ended my trials – they are simply stunning! And they are gluten-free!

First of all I want to talk about the chocolate that I use (there's a lot) – part a good quality 70% dark chocolate and part a good quality milk chocolate with quite a high cocoa percentage, around 37-42%.

I have been able to find milk chocolate with a high cocoa percentage in well-stocked supermarkets.

These double chocolate cakes are rich and obviously calorie-laden but I make them very small – small enough to not affect your weight very much.

I melt the dark chocolate but chop the lighter chocolate and add the chopped chocolate pieces as the last thing to the batter. I also add a fresh raspberry to each cake – hidden in the middle and not revealed until you bite into the cakes.

These days I normally use xylitol in place of sugar when I am baking. Xylitol is a vegetable sugar which is similar to fructose in fruit and has a very low GI. It looks and tastes like sugar but has very little effect on raising your blood sugar.

What xylitol hasn't got is the preserving factor that normal sugar has. Made with ordinary sugar, these double chocolate cakes will keep for up to a week in the fridge. Unless I'm baking for a lot of people – knowing that they will be eaten in a couple of days – I use ordinary sugar.


This will make 24 small double chocolate cakes:

110g, 3¾oz, 70% dark chocolate

110g, 3¾oz, 1 stick, lightly salted butter

2 eggs – preferably organic or free-range

140g, 4¾oz, 0.7 cup, caster (superfine) sugar

70g, 2½oz, ½ cup, ground almonds

110g, 3¾oz, milk chocolate with a high cocoa content – 37-42% - roughly chopped

24 raspberries


1.    Preheat the oven to 200C/fan 180C/400F/gas mark 6. You can use individual, small muffin cases, or silicon trays - place whatever you chose on a baking tray.

2.    Place the butter and dark chocolate in a bowl over a pot with simmering water (the bowl must not touch the water) and stir until melted. Remove the bowl from the heat and leave to cool down slightly.

3.    Place the eggs and sugar in another bowl and use an electric whisk, or whisk by hand, to beat the butter and sugar together until pale and light. Add the melted dark chocolate and butter mix to the bowl and use a large spoon to mix together.

4.    Add the ground almonds and mix it in. Add the chopped milk chocolate and mix together once more. Add enough chocolate mixture to just cover the base of each muffin case, place a raspberry on top and divide the rest of the mixture between the mini muffin cases.

5.    Place the tray in the oven and bake for about 18-20 minutes – the cakes should still be quite soft in the middle. Leave to cool down completely before removing from the tray.