Gluten-Free Socca Pancakes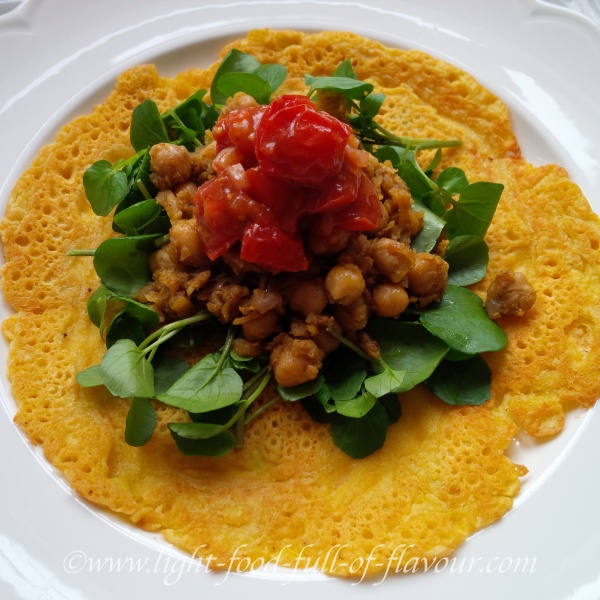 Pancakes with a difference, gluten-free socca pancakes which are made with gram (chickpea) flour, water and olive oil - making them dairy-free as well.

I add spices to the batter as well to give these pancakes more oomph!

In this recipe, I have chosen to serve my socca pancakes with a spicy sweet potato and chickpea stir-fry. As I had also made a batch of oven-roasted tomato sauce the day before, I added a dollop of this on top. Total Yum!

You could just add some tomatoes to the stir-fry instead of the oven-roasted tomatoes. I've added them to this recipe.


For the gluten-free socca pancakes:

150g, 5 ½ oz, 1.1 cup gram (chickpea) flour

250ml, 9floz, 1.1 cup cold water

2 tablespoons olive oil

½ teaspoon sea salt

½ teaspoon ground ginger

½ teaspoon turmeric

Pinch of dried chilli flakes


For the stir-fry:

2 tablespoons coconut oil, or use olive oil

½ teaspoon mustard seeds

1 small red onion, finely chopped

2 heaped teaspoons finely grated ginger

2 garlic cloves, crushed/minced

2 heaped teaspoons ground coriander

2 heaped teaspoons ground cumin

¼ teaspoon dried chilli flakes

Sea salt and black pepper

1 large sweet potato, peeled and coarsely grated

10 halved small tomatoes – like cherry or plum tomatoes

400g, 14oz, 2 ½ cups, tin/can cooked chickpeas, rinsed

A handful of fresh coriander (cilantro), roughly chopped


To serve:

Watercress or rocket (arugula) leaves


1.    Start by making the batter for the socca pancakes. Add the gram flour, water, olive oil, spices and salt to a bowl and whisk until you have a smooth batter. Leave to rest for at least 15 minutes.

2.    Add the coconut (or olive oil) to a large frying pan over a medium-high heat. Once the oil is hot, add the mustard seeds and as soon as they start to crackle and pop, add the chopped onion, and minced ginger and garlic, ground coriander (cilantro), cumin and chilli flakes to the pan. Season with some sea salt and black pepper and stir-fry for about 5 minutes. 

3.    Add the grated sweet potato and tomatoes - continue to stir-fry for another 5 minutes. At the end, add the cooked chickpeas. Turn off the heat.

4.    To make the gluten-free socca pancakes – add a teaspoon of coconut oil to a frying pan over a medium-high heat. Wait until the oil is really hot before adding a small lade-full of batter to the pan. Cook for about 2-3 minutes – until bubbles appear – then flip and cook the other side for about 2 minutes. Place the pancake on a plate and repeat with the rest of the batter.

5.    Once the pancakes are ready, quickly re-heat the stir-fried mix. Add the fresh coriander (cilantro). To serve, top the pancakes with watercress or rocket leaves followed by some of the stir-fry.