Oven-Roasted Tomato Sauce/Soup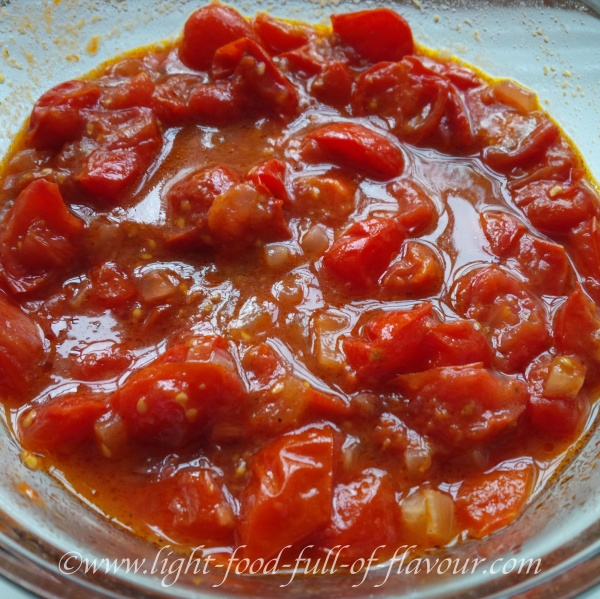 I LOVE the taste of oven-roasted tomatoes and the following recipe is great for making a rich, seductive oven-roasted tomato sauce that is wonderful to eat with pasta. Or thin the sauce out with a bit of water and you'll get a totally stunning tomato soup. I'm talking proper showstopper here!

I once walked up through Spain and into France. Okay, I didn't start at the very bottom of Spain. I started in the mountains inland from Malaga and kept on walking through the interior of Spain, mostly up and down mountains.

There wasn't a tourist in sight and the villages and towns I passed through and stayed in were small. It was my restless legs that got me going in the first place, them and the food I hoped to discover.

On this walk – it took me 4 weeks to reach the French border - I ate the most amazingly sweet and tasty tomatoes. In the Andalucía region, where they produce some of the most stunning olive oils I've ever tasted, I ate tomatoes for breakfast in the cafés (see Sourdough Bread With Tomatoes And Garlic).

Tomatoes, along with carrots, benefit from being cooked. Tomatoes contain the red pigment lycopene, a super-nutrient, and cooking/processing tomatoes increases the concentration of lycopene in the tomatoes.

Use this oven-roasted tomato sauce recipe as a blueprint only, as there is no need to be exact. The only thing that matters is that you use ripe, fragrant tomatoes.


Oven-roasted tomato sauce:

500g, 1lb2oz, 3 cups, ripe tomatoes cut into pieces (small tomatoes halved)

1 red onion, finely chopped

2-3 garlic cloves finely, chopped

2 tablespoons sun-dried tomato puree (if you can't get hold of it, use plain tomato puree)

1 tablespoons olive oil

2 tablespoons balsamic vinegar
3/4  teaspoon sea salt

Freshly ground black pepper

1. Preheat the oven to 200C/fan 180C/400F/gas mark 6. Mix together all the ingredients in a roasting pan and roast in the oven until the tomatoes start to blister (around 30 minutes). Give the mixture a stir mid-way through.

2. Remove from the oven and place the roasted vegetables in a non-metallic bowl and cover the bowl with cling film. Allow to infuse for at least 30 minutes, longer if you can. I usually leave it for 1-2 hours - quite frankly the longer the better as this will intensify the taste.

3. If you want a smooth sauce - or are making a tomato soup - remove the cling film and once the mixture has cooled down to room temperature, blitz the mix in a blender.
If it is too thick for a soup, simply add some water until you get the desired consistency. Reheat and check the seasoning before serving.

I love to eat this oven-roasted tomato sauce with a bowl of pasta and some crumbled feta or grated Parmesan cheese and some torn basil leaves on top. I personally prefer to use either wholemeal (wholewheat) pasta or pasta made of pulses, a much healthier alternative to white pasta and REALLY tasty.


Home Page > Vegetarian Recipes > Oven-Roasted Tomato Sauce/Soup