Roasted Pepper Salsa With Smoked Paprika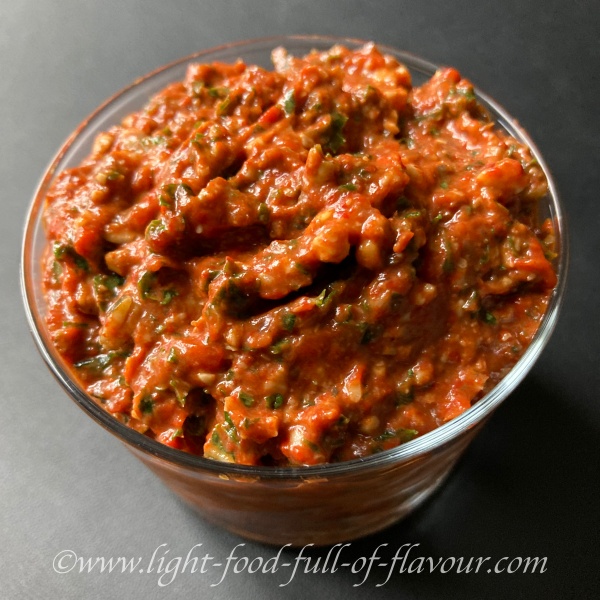 I make this roasted pepper salsa with smoked paprika a lot. It's delicious, easy to make and healthy.
You can buy preserved, ready-roasted peppers (bell peppers) in jars, which undoubtedly makes it even quicker to make, but I think it tastes better when you roast the peppers yourself.
Kale is an incredibly healthy dark green vegetable. It contains a lot of vitamins and minerals and is rich in antioxidants and fibre. I always have curly kale at home and add it to a lot of different foods (see Eat your greens), like this roasted red pepper salsa.
It's perfect to add to other foods as it it's not that pleasant to eat on its own. I love making pesto with kale, basil, garlic, Parmesan cheese and walnuts.
And speaking of walnuts, which I also use a lot and add to this salsa, they have the most antioxidants out of all nuts. Walnuts are also rich in omega3, an essential type of fat, as well as other nutrients, including vitamin E and several minerals.
It's important to store all types of nuts and seeds in a cool place (I store them in my fridge) as the healthy essential fat in them quickly goes rancid in warmer temperatures.
I use this salsa in many ways - on top of toasted sourdough bread or oat cakes together with some hummus and sliced avocado, or together with a mixed salad, or on top of some cooked salmon or chicken.

For the roasted peppers:

4 red peppers (bell peppers) - I use pointed Romano peppers
A dash of olive oil

Start by roasting the red peppers. Preheat the oven to 220C/ 425F/gas mark 7. Put the peppers into a roasting tray with a dash of olive oil and cook for 15 minutes, turning them from time to time, or until the skins blacken.
Place the peppers into a bowl and cover with cling film. Set aside for 10-15 minutes, until the skin comes off easily. Break the peppers open, pull out and discard the stalks, pith and seed and peel off the skin. 
To make the roasted pepper salsa with smoked paprika:
4 roasted peppers
2 handfuls curly kale
1 crushed garlic clove
1/2 tablespoon each of sunflower and pumpkin seeds
10 walnut halves
1 teaspoon smoked paprika
1/2 teaspoon black pepper
1/2 teaspoon sea salt
1 tablespoon balsamic vinegar
2 tablespoons Extra virgin olive oil.
Place all the ingredients in a food processor and whizz for 15-20 seconds.
Home > Salsa and Sauce Recipes > Roasted Pepper Salsa With Smoked Paprika