Eat Your Greens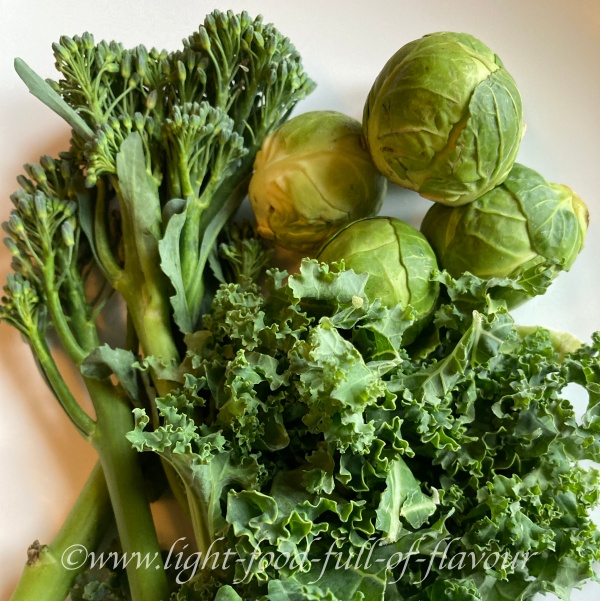 I know, eat your greens sounds like something you say to children but it's something we can all benefit from being reminded about - how incredibly healthy dark green vegetables are.
These vegetables are full of different vitamins and minerals as well as rich in antioxidants and fibre. On top of that they are all low in calories - a perfect combination to be sure! (See Low-GL Carbohydrates.)
You have dark green leaves that are easy to add to salads - such as arugula (rocket), spinach, watercress, Swiss chard and kale. But these leaves, along with green vegetables such as broccoli, tenderstem broccoli (broccolini) and Brussel sprouts, are all great to add to a lot of different cooked dishes - mostly at the last minute.
The less you cook any of these vegetables, the more they retain their nutrients.
I want you show ways to add them to a variety of foods - to make it easier to eat your greens.
Easy Ways To Eat Your Greens
I add the three vegetables in the photo - kale, Brussel sprouts and broccolini - to a lot of different dishes. 
Kale is my go-to leafy vegetable that I add to different dishes. It is possibly the most nutrient-dense leafy vegetable.
Spinach is another very healthy leafy vegetable but kale has an advantage over spinach. Spinach is high in oxalates, an anti-nutrient that reduces the absorption of calcium. Kale, on the other hand, is a low-oxalate green vegetable.
Personally, I almost always use curly kale. You have to remove the coarse stems and it's not a type of kale I would add to a salad but it's great to cook with or use for pesto (see below).
I often stir-fry curly kale for a couple of minutes in some olive oil and with lots of black pepper and add this to cooked quinoa or brown basmati rice.
Pesto: I make pesto with curly kale, basil, walnuts, garlic, parmesan and olive oil.
Soups: I add kale to different soups for the last couple of minutes of cooking such as pea soup, lentil and carrot soup, spicy sweet potato soup.
Curries: Like with soups, I often add kale for the last couple of minutes to any curry that I am cooking - like Thai-style curry sauce, chicken curry with lemongrass and tomatoes, prawn and mango curry.)
Broccolini (tenderstem broccoli) and Brussel sprouts are like kale members of the incredibly nutrtitious brassica family of vegetables. I use both a lot.
Broccolini (tenderstem broccoli): I often steam-cook broccolini as a side-dish. And just like I do with kale and Brussel sprouts, I add finely chopped broccolini to soups and curries for the last couple of minutes of cooking.
Brussel sprouts: I add finely shredded sprouts to salads as well as to soups and curries for the last couple of minutes of cooking - same as with kale.

I also love to oven-roast halved sprouts tossed in olive oil for 15 minutes in a 180C/350F hot oven.