Swedish Pancakes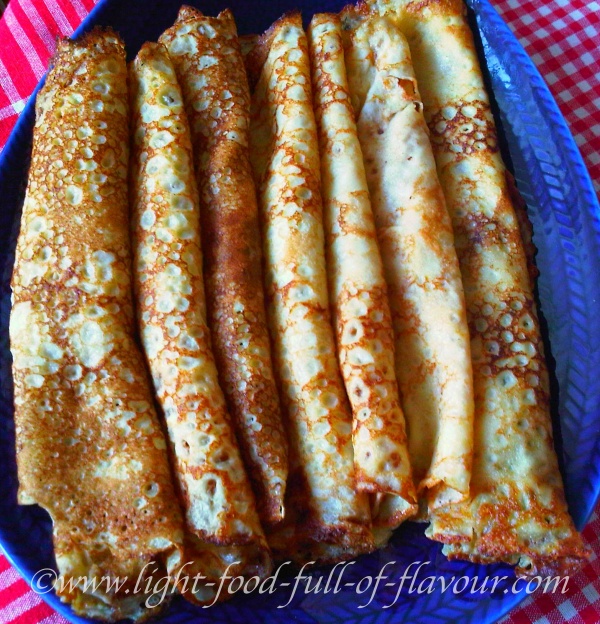 I LOVE pancakes! I make Swedish pancakes the same way my mother made hers - with loads of eggs.

I find that pancakes bring out the child in most of us. It's the milk and the eggs, in my humble opinion, which bring out that warm, fuzzy and comforting feeling in your tummy.  

Although I also love American-style pancakes, with added baking powder, there is something very special about the way we make them in Sweden – thin with lots of eggs.

These thin pancakes are great to use for making filled savoury crepes. I also use them at times for making canapés.

Making Swedish pancakes for others is an act of love as far as I am concerned - not because they are difficult to make but because you are stuck in front of that stove frying one pancake after another.

Having been brought up by the world's best pancake maker - my mother - brings a lot of pressure. But here goes…


4 medium-sized eggs

480ml, 17floz, 2.1 cups, full-fat milk

90g, 3¼oz, 0.65 cups plain flour

½ teaspoon salt

1 tablespoon butter + some more for frying

1.    Crack the eggs into a bowl and add the flour, salt and 1/3 of the milk. Whisk vigorously – best thing to use is an electric whisk – until you have a lump-free batter. Add the rest of the milk and whisk a bit more. If you have the time (I rarely do), leave the pancake mix in the fridge for half an hour before frying the pancakes.

2.    Melt the butter in a large non-stick frying pan and add the melted butter to the pancake batter whilst whisking. You only need to use a small amount of butter, ¼ of a teaspoon, for frying each pancake.

3.    The frying pan needs to be quite hot and the butter should be turning brown before adding a small ladle of pancake batter to the pan. Tilt the pan to move the mixture around for a thin and even pancake. Fry for about one minute, until you can see that it's nicely browned (just lift up a corner), before carefully flipping the pancake over. Fry for another minute. Transfer to a plate and continue with the next pancake, and the next one, and...
They are worth it though!

For dairy, egg and gluten-free variations of pancakes, try my Banana Pancakes which I make for breakfast from time to time.
Or try my buckwheat and sweet potato crepes. I sometimes eat these for breakfast as well – topped with some feta cheese and watercress.