Banana Pancakes With Cinnamon And Coconut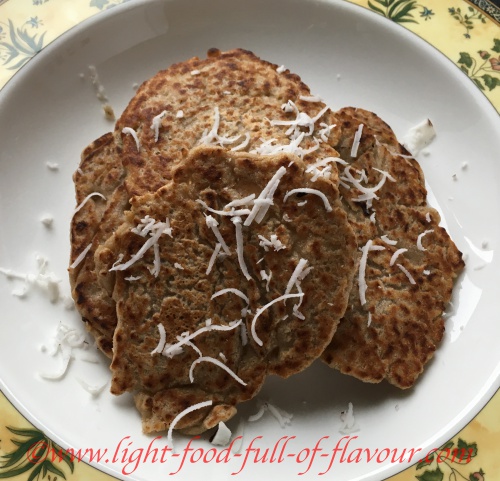 It's very easy to make these delicious banana pancakes.
I have been making these pancakes a lot, as part of my breakfast, since coming back from a stay at a Sri Lankan Ayurveda and yoga retreat.

The food at this amazing retreat (Sen Wellness Sanctuary - this will open a new window) was mostly vegan/vegetarian and the inspiration for my recipe comes from food they served at the retreat.

Coconut, in different forms, plays a big role in Sri Lankan cuisine. I have continued to use it a lot myself since coming back to Scotland and I can only say that this type of healthy fat has had a positive effect on my body.

I lost weight while away and have continued to keep the weight off since coming home.

While I can't get hold of whole coconuts in my neck of the woods on the Scottish West coast, I can buy fresh pieces of raw coconut which I grate myself.

If you are buying desiccated coconut, look out for natural varieties sold in health food stores.

The flours I am using for the banana pancakes are oat flour and brown rice flour. As I'm such a fan of coconut I sometimes replace part of the other flours with some coconut flour.
These pancakes are vegan as I don't use any eggs. 
Banana Pancakes: this will make approximately 8 small pancakes

50g, 1 3/4oz, oat flour

50g, 1 3/4oz brown rice flour

15g, 1/2oz ground almonds

1 heaped tablespoon grated (desiccated) coconut

1/2 teaspoon ground cinnamon

1/4 teaspoon salt

1 medium-sized ripe banana - mashed (use a fork)

100ml - 110ml, about 12 tablespoons, cold water

coconut oil for frying
Add all the ingredients, apart from the coconut oil, to a bowl and mix. You should end up with a quite thick batter.

Add half a tablespoon coconut oil to a large frying pan over a medium-high heat. Once the oil is hot, add a tablespoon of the batter to the pan and use the spoon to spread it out before adding another spoonful of batter, and so on. I can fit 3 pancakes into my pan.
Fry for 2-3minutes - until nicely browned - before flipping the pancakes over and fry for a further 2-3 minutes. Once ready, transfer the pancakes to a plate and keep warm. Add some more coconut oil if needed and continue until you have used up all the batter.
You could serve these lovely pancakes with fresh berries or luscious mango slices.
I eat them with sliced avocado and either just grated fresh coconut or coconut sambal - grated coconut mixed with finely chopped red onion, crushed/minced garlic, black pepper, some cayenne pepper, salt and fresh lime juice.