Thai-Style Prawns With Cauliflower Rice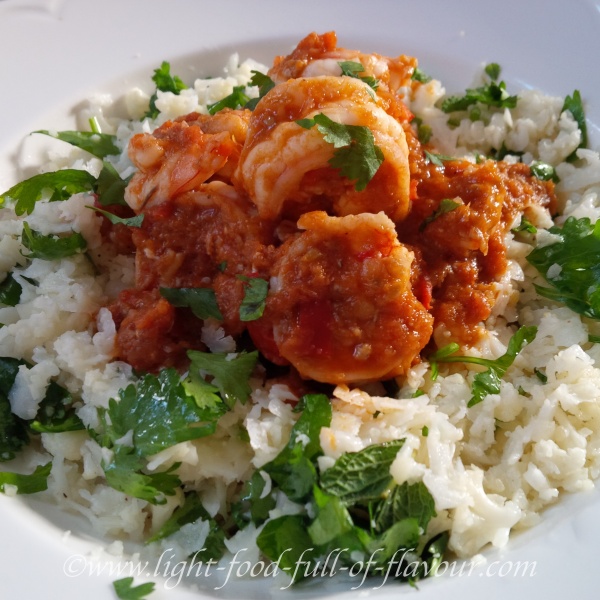 I've just bought a new pestle and mortar and have already used it to make a marinade for Thai-style prawns served with my personal favourite, cauliflower rice. Yummy!

Once you have made the marinade and grated the cauliflower, this dish comes together really quickly. 

You could make this marinade a lot quicker by putting the ingredients in a food processor. It will still taste good when made this way – but not as good as it will when made in a pestle and mortar.

When you pound your ingredients in a mortar, you are slowly teasing out the flavours of whatever you put in – it is more work but you get much more flavour from the ingredients. I personally like to do as much as I possibly can by hand.

I love Asian-style food. My only problem with it is the amount of sugar used in certain food – more so, it seems to me, in Korean, Japanese and Chinese food where they happily add several tablespoons of sugar to many a dish, including salads.

A mixture of the four basic tastes – salt, sweet, sour and bitter – makes for a well-balanced taste sensation. I just feel that the sweet part of the dish can be kept to a minimum.

For the marinade for these Thai-style prawns, I suggest you use either 1 heaped teaspoon of coconut palm sugar or honey.  I have used both and found that they worked equally well (the honey I used was a delicious raw orange blossom honey).

Honey is a slightly healthier option but it is still sugar.

If you haven't tried cauliflower rice, please do. I was not a lover of cauliflower until I tried this but now I am hooked. Everybody that I've cooked it for have loved it, and no-one realized that it was made with cauliflower until I told them.

You can replace the lemongrass in the marinade with finely grated zest of either 1 un-waxed lemon or lime.


Thai-style prawns for 4 people:

Marinade:

1 lemongrass stalk - cut off the thinner top, leaving you with the "bulb" at the bottom, discard tough outer layer, cut off the bottom of the "bulb", halve it and slice very finely

2 garlic cloves, chopped

A thumb-size piece of ginger, peeled and finely chopped

2 shallots, chopped

2 large red chillies, de-seeded and chopped

8 small tomatoes – such as cherry or plum – halved

1½ tablespoon Thai fish sauce

1 heaped teaspoon of either coconut palm sugar or honey


2 tablespoons coconut oil

24 large, raw peeled prawns


2 tablespoons coconut oil

1 large cauliflower – trimmed and grated coarsely

Salt and pepper

A handful of fresh coriander (cilantro) – roughly chopped

10 mint leaves, chopped

1 tablespoon lime juice


1.    Place the chopped lemongrass, garlic, shallots, ginger and chillies in a pestle and mortar (a reasonable deep one) and pound until you have a paste (keep scraping it down from the sides with a spoon). Add the tomatoes and continue to pound until they disintegrate as well.

2.    In a bowl, mix the sugar or honey with the fish sauce and whisk until the sugar/honey has dissolved. Add this to the mortar and pound a bit more. If you are using a food processor, simply add all the ingredients for the marinade and pulse until you have a mushy paste – it won't take long.

3.    Add 2 tablespoons of coconut oil to a large frying pan over a medium high heat. Once the oil is hot, add the prawns to the frying pan. Fry the prawns for about 1 ½ minute – turning them over half-way through - until they are pink on both sides. Add all of the marinade to the pan, increase the heat and let it all bubble away for a further minute. Add 1 tablespoon of lime juice to the pan and remove from the heat. Place the prawns and marinade in a bowl and cover it with foil to keep warm.

4.     Wipe the frying pan clean with kitchen roll, add 2 tablespoons of coconut oil to the pan over a high heat and add the grated cauliflower to the pan together with some salt and black pepper. Keep stirring for about 2 minutes (the cauliflower rice should still be crunchy). Remove the pan from the heat and stir in 1 tablespoon of lime juice, the chopped coriander and mint leaves.

5.    Divide the cauliflower rice between four plates and top with the Thai-style prawns and. Serve immediately.