Soup For Weight Loss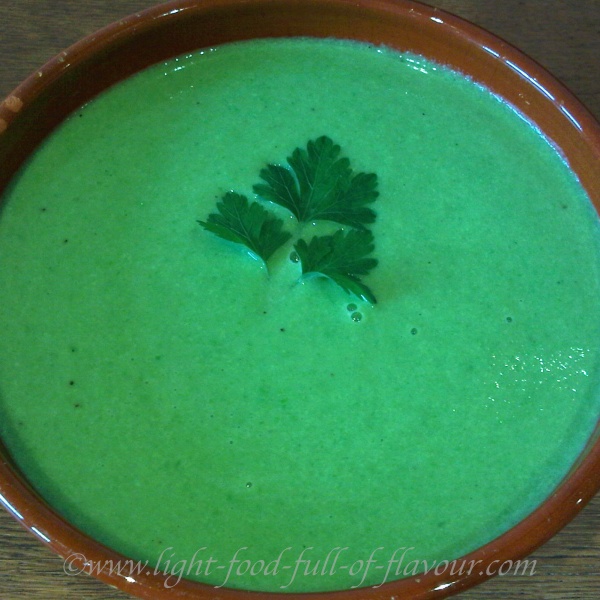 I made soup for a friend recently, when she was very busy at work and didn't have time to cook.
"I had no idea soup could be so filling," she said to me afterwards.
It turns out that even though she likes soup, she hardly ever cooks it for herself as she had dismissed it as a proper meal.
Not only can soup be immensely filling, it can also be incredibly nutritious and low in calories. And, to top it off, it can be quick to make.
So quick actually that people will hardly have time to sit down before the soup is ready to be served! My recipes for Pea Soup Two Ways are already quick to make, but when I'm hungry and impatient I take a shortcut and make it even quicker.
My favourite pea soup out the two is the one with ginger and coriander and my shortcut way to make it is to start by putting on the kettle.
I add the frozen peas to a pot together with the ground ginger, some salt and pepper and boiling water from the kettle. I give it all a stir, put a lid on the pot and put the heat up to high. As soon as the water comes back to boiling, I'll take the pot off the heat, add the fresh coriander – stalks and leaves – and whizz the soup with my oh-so-handy stick blender.
Check the seasoning, add some crumbled feta cheese and Bob's your uncle!
And if you want a more traditional, shortcut variety of pea soup, skip the ginger and add a small handful of mint leaves instead of the coriander before whizzing.
Low-calorie soups

People with fat phobia often seems to think that the only way a soup can be slim-line food is if all they can see are some miniscule vegetable bits in an otherwise clear broth. When they see my thick and luscious soups, they look horrified and scream: "cream, there must be cream in there".
Of which there is NONE. As I like my soups to be thick, I simply add less stock or water to whatever vegetables I am using in the soup. If I find that it's too thick once I I've whizzed it with my stick blender, then I just add some more water afterwards.
What makes a soup filling?
Well, in the clear broth with the miniscule vegetable bits the liquid will fill you up, but only for a short time. As there is scant nutrition in such a soup, you'll soon be hungry again.
If, on the other hand, you combine the liquid with nutritious, slow releasing carbohydrates, and protein, you are on to a winner – big time!
Vegetables consist of a mixture of carbohydrates and protein. Lentils and beans are really rich in protein as well as carbohydrates - and are really nutritious - so for a filling vegetable soup, they are a good thing to add (see Spicy Sweet Potato Soup and Lentil and Carrot Soup.)
Another filling, low-calorie and super healthy mega-protein-rich food is quinoa. Cook it separately and add to your soup to make it incredibly filling and nutritious.
If you eat fish and meat, adding some lean meat like cooked chicken or super-healthy omega-3 rich oily fish like mackerel or salmon to your vegetable soup will also make it a very filling soup.
To make your soup super-tasty as well as healthy, add spices and/or herbs (see Carrot and Watercress Soup and Asian-Style Beetroot Soup).
To keep it a low-calorie meal, try not to eat your soup with lots of bread with calorie-laden toppings. If you've made a really filling and nutritious soup, you might find that you don't need any bread at all. It is infinitely better – both for your weight and your health - to eat a salad with your soup.
Even if you are not a keen cook, soup is quite easy to make and a great thing to have in your freezer. Make a lot while you are at it to make it easy for you to have a nutritious and filling meal at hand when you are not in the mood for cooking.
I know how easy it is to grab something ready-made from the shop, but you will always be able to make a much more nutritious and tastier soup yourself.
Come on, get that soup pot on! Happy cooking!
Home Page > Healthy Weight Loss Diary > Thirteenth of April Diary